Tours & Pedagogical Workshops for Schools
Dialogue in the dark with the school class?
The lightless "Dialogue in the Dark" exhibition is experienced with a maximum of 8 students per guide.
The tour leads through different themed rooms and ends in our DunkelBar. Here the students have the opportunity to talk with the guide over a drink in the dark. Questions that arise during the tour can be answered here. Tours for educational institutions last 60 minutes.
Included in the price is the Dialog Lab, with the exhibition Mittendrin. In the foyer, students can explore the stations independently during waiting times. It's all about accessibility and we ask the question: When have you ever felt excluded?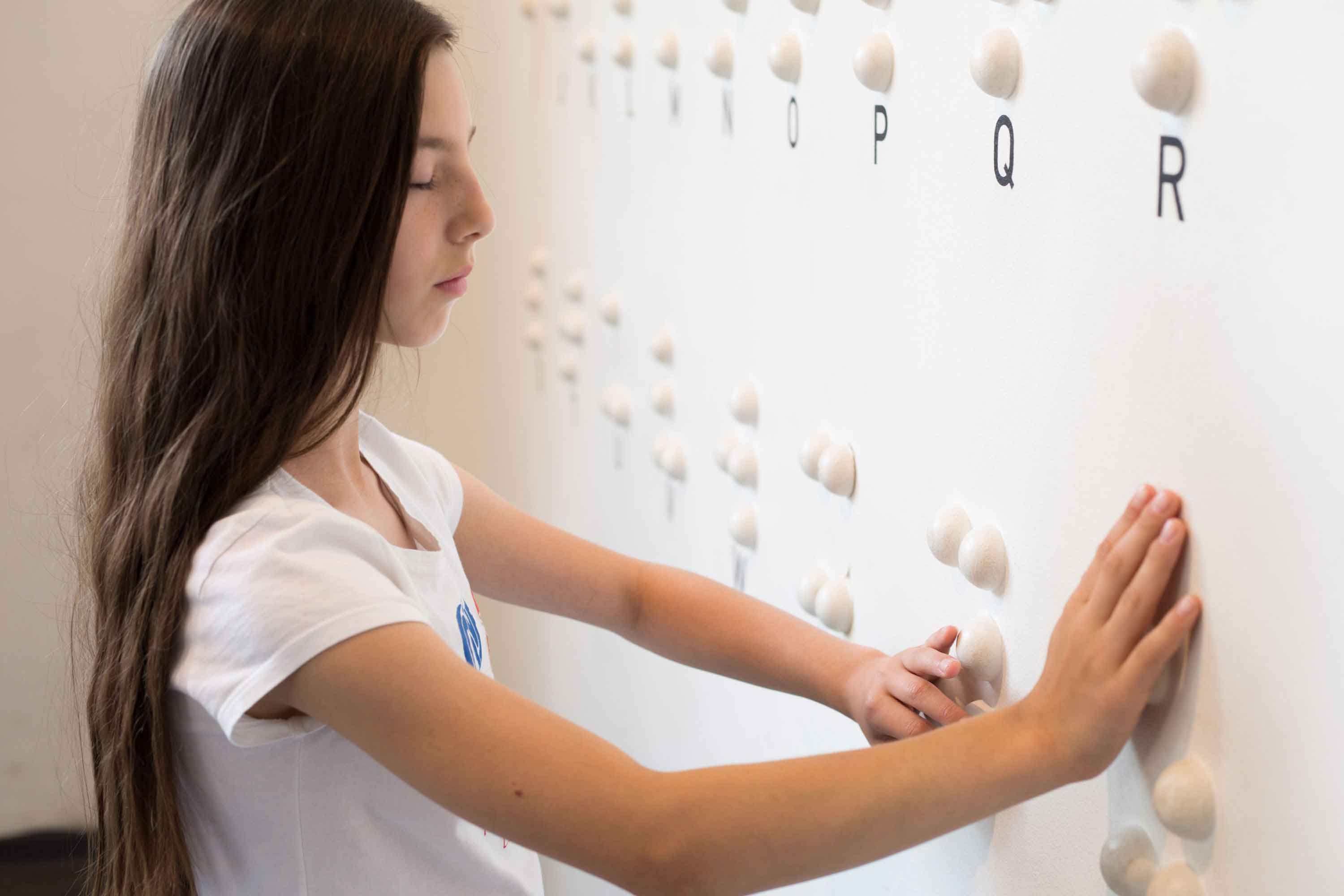 Complementary to Dunkel tours:
ONLINE Workshop
Our new ONLINE workshop "This is how I see it!" offers participants a virtual dialogue with non-sighted people. Topics of the workshop, such as the senses, empathy, equality and inclusion can be embedded in a versatile way in teaching subjects or project weeks.
Participants learn about different everyday situations for visually impaired people, try to put themselves in their perspective and then assess the situations.
150 € (up to 15 students)
Each additional person € 10,00
Duration 60-75 min.
Complementary to Dunkel Tours:
Presence Workshop
Blind people do not see black? Why is it not allowed to smile at guide dogs? How can digital technology help in coping with everyday life today? Most sighted people never think about these issues because they have little to do with blind and visually impaired people in everyday life.
Our educational presence workshop "This is how I see it!" gives an insight into the aids and techniques for blind people.
120 € (up to 24 students)
Each additional person € 5,00
Duration 45 min.

Complementary to silent tours:
Presence Workshop
Learn fascinating facts and background information in the educational workshop EYES OPEN! The guides of the exhibition will convey them to you in German Sign Language (DGS) with the help of a communication assistant.
What does everyday life look like for deaf people? The workshop provides insights into everyday life, problems and opportunities for participation. How has the deaf community developed until today? From the 1st school for the deaf to the recognition of German Sign Language. A language and a culture on the way to public perception. What is meant by deaf culture? We provide cultural examples worth seeing, films of sign language poetry and music.
120 € (up to 24 Schüler)
Each additional person € 5,00
Duration 45 min.

Online Buchen: Touren & Workshops für Bildungseinrichtungen